Two promising artists, singer-songwriter Paravi Das and filmmaker Jahmil Eady, have been named UCLA's inaugural Class Artists.
Both will earn degrees from UCLA's School of Theater, Film and Television on June 16.
The Class Artists program recognizes two students each year — one undergraduate and one graduate student — whose work showcases the presence and purpose of the arts at UCLA. Each honoree receives a $1,500 prize.
"The Class Artists program is a wonderful new way to celebrate the transformative power of the arts and to recognize that they do much more than provide entertainment," said UCLA Chancellor Gene Block. "Our two inaugural Class Artists exemplify the capacity of the arts to inspire us, challenge us with new perspectives and invite us to reflect on societal issues."
The initiative is sponsored by the UCLA Chancellor's Council on the Arts, and submissions were judged by a panel of alumni artists and arts educators. The panel received a range of entries spanning the disciplines of film, music composition, dance and theater performance, sculpture, photography, multimedia, poetry and fiction writing.
"Paravi and Jahmil represent an overarching vision at UCLA — that is, art and culture as a means of connection, uplift and response to societal issues that are best faced together through the lens of empathy and curiosity that artists uniquely provide," said Eileen Strempel, chair of the Chancellor's Council on the Arts and dean of the UCLA Herb Alpert School of Music. "We are proud to celebrate these two artists among us during commencement this year and look forward to future installations of this competition."
A mission of representation
Paravi Das, who earns her bachelor's degree in musical theater this week, was honored for her song "Broken English," for which she wrote the lyrics and melodies in collaboration with two other artists, Khushi and Carol Ades. The song is a tribute to her parents, who emigrated from India, and a love letter to anyone who has ever felt marginalized because English is their second language.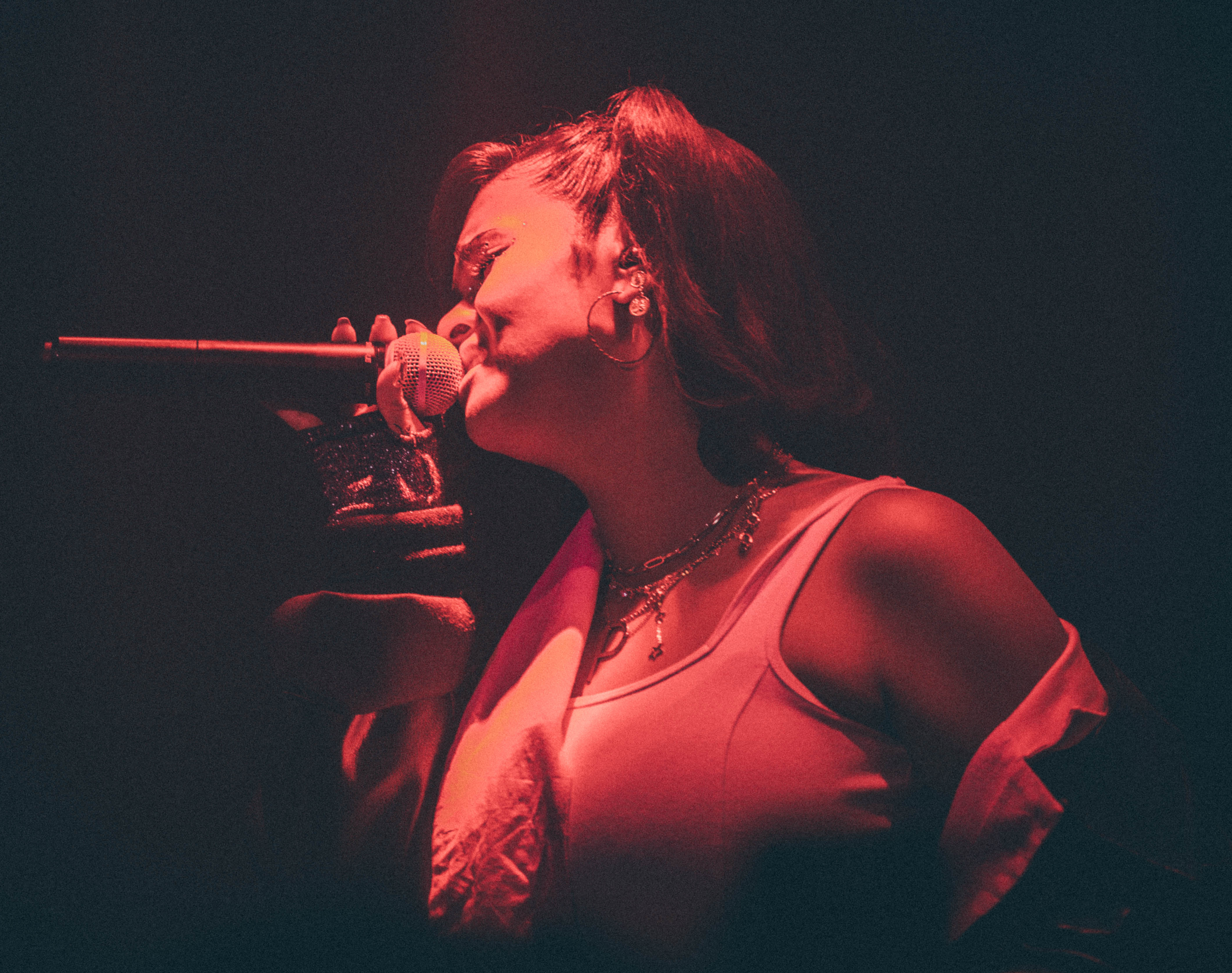 Ricky Horne Jr.
"Paravi stole my heart with her song," said Gabriel Noguez, one of the program's judges, an alumnus of both the UCLA School of the Arts and Architecture and the School of Theater, Film and Television, and a senior media producer at the UCLA Hammer Museum. "Her voice soothes like warm honey gracefully dissolving. Paravi's musical narrative is a testament to true brilliance. It's like hearing an old favorite song, even though it captures the essence of the present moment."
Das' UCLA education was supported by a full four-year scholarship from a fund established in 2010 by TFT alumna Elizabeth Reiko Kubota Whitney.
"I'm hoping that a few years down the line, when my career takes me where my career takes me, I can start a scholarship like that at UCLA, too," Das said.
Even as she pursued her UCLA degree, Das has racked up a slew of professional achievements: Her TikTok comedy and singing videos have amassed 2.7 million followers and tens of millions of views — which led to a recording deal with RCA. She released her first EP of covers; recorded a cover of "Suspicious Minds" for the soundtrack to the 2022 biopic "Elvis"; and earned her first professional musical theater gig, co-starring with Idina Menzel in "Wild: A Musical Becoming," an off-Broadway production about climate justice.
On campus, she has been a member of the Scattertones a cappella group and performed in The Color Box Production Company's "Little Shop of Horrors."
"My dream scenario for the future is that I'm on my headline tour for my best-selling album, and then I take a break to go do Broadway, then back on tour," Das said.
Looking ahead, Das said she wants to make a mark in representing Asian women — and particularly south Asian women — in her field.
"I want little brown girls like I once was to see themselves in my success," she said.
Filmmaking with a social conscience
Jahmil Eady was honored for her film "The Bond," which follows an incarcerated pregnant woman as she gives birth. The short had already been named best student film at the BronzeLens Film Festival and was recognized at the Bentonville and Atlanta film festivals.
"From the very first scene, 'The Bond' took hold of my senses," Noguez said. "Jahmil handles this urgent film with utmost care, delivering a breathtaking cinematic experience."
Eady, who earned a bachelor's degree from Pomona College and studied at the Prague Film School, describes her filmmaking focus as socially minded, character-driven narrative.
"I tell stories about family — both blood and found — and about the power of human connection, and how connection and community helps us to persevere and make it through even the most challenging of circumstances," she said.
Courtesy of the Princess Grace Foundation
"The Bond" is a message of support for the anti-shackling movement — an important issue in light of women's imprisonment having grown twice as fast as men's incarceration in recent decades, according to the Prison Policy Initiative.
By the time she receives her master's of fine arts in directing this week, Eady will have directed three short films at UCLA, and she relishes her wide-ranging work on several other projects.
"I loved that we were able to learn all the aspects of creating film, from writing to directing to sound to editing and cinematography," she said. "I think learning all of these things allowed me to become a better collaborator. It allowed me to become a stronger filmmaker, and it allowed me to understand how all of the pieces fit together. Every crew position is important."
Eady has been honored previously by the Princess Grace Foundation, and she received scholarships from the New York Times and the "Four Sisters," a group made up of TV and film directors Gina Prince-Bythewood, Sara Finney-Johnson, Felicia D. Henderson and Mara Brock Akil.
Now, her goal is to become a TV showrunner, and she sees great potential in using sci-fi, fantasy and horror genres to creatively examine social issues and shining light on elements of American history that remain opaque to so many.
One of Eady's works in progress is a story about mermaids and those who seek to protect them. It's rooted in her family's heritage among the Gullah Geechee people, who have traditionally resided in the coastal areas and sea islands of the Carolinas, Georgia and Florida. Throughout the region are places that were primarily owned and inhabited by Black people after the Civil War, but have since been changing hands due to development and displacement.
"There's no way that I could create something that doesn't have social commentary, because I'm writing from my perspective and I'm writing and centering Black people, people of color, queer people and disabled people," she said. "But as I've gotten older, I realized what I like about genre filmmaking is that you can inject those things into the story and get to the heart of it, sometimes in a more subtle way."