There is one tried-and-true method to prove you are a true Bruin: You can eight-clap on command. Whether you're sitting at the 50-yard line of the Rose Bowl, leaping up at Pauley Pavilion, or just watching the Bruins on TV (and also occasionally leaping out of your chair), a snappy rendition of UCLA's signature chant is gasoline in the engine of your blue-and-gold spirit. Here, how to make sure you are doing the famous UCLA cheer properly — and some fun factoids about its colorful history.
---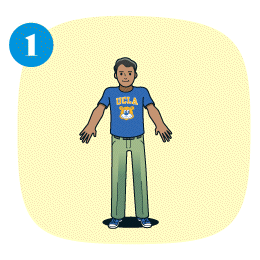 STEP 1
Put both hands in the air. Bend forward slightly so your palms are facing the ground. Raise your hands as you straighten back up.
STEP 2
Then, bring your hands down in front of you and clap vigorously eight times.
STEP 3
Shout "U!" while pumping your right fist into the air, then clap three times.
STEP 4
Now yell "C!" as you pump into the air with your left fist. Clap three times.
STEP 5
Now "L" with your right, followed by three claps.
STEP 6
And then "A" with the left, with three more claps.
STEP 7
Quickly repeat steps 3 through 6, but without the claps. You're going for a piston motion: Shout "U" as you pump your right fist in the air, "C" with the left, "L" with the right, and "A" with the left.
STEP 8
Finish by pumping your right fist in the air three times, yelling "Fight!" each time.
---
Read more from UCLA Magazine's Fall 2023 issue.