COVER STORY
UCLA Magazine speaks with doctors on the front lines who are helping the world combat the deadly virus.
TIARE DUNLAP | PHOTOGRAPHY BY LEVI BROWN
FEATURES
---
UCLA wildfire research reveals the patterns and future threats of blazes in California — and offers a foundation for how to face the flames.
ALISON HEWITT AND PEG MOLINE | PHOTOGRAPHY BY KEVIN COOLEY
---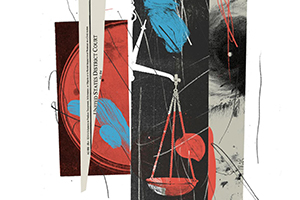 The Post-Trump World: A Divided America Elects Joe Biden
Political and moral victories sometimes go hand in hand. But not always. This election has exposed more than one split.
JIM NEWTON | ILLUSTRATIONS BY MIKE MCQUADE
---
How arts, culture and entertainment will evolve as they recover from the pandemic — and how they will help society heal.
JOHN HARLOW | PHOTOGRAPHY BY EMILY SHUR
DEPARTMENTS
---
FORWARD THINKER
Sonja Diaz Crafts Policy for the People
The founding director of the Latino Policy & Politics Initiative understands how research can directly result in legislation that serves society's needs.
CHERYL CHENG '02 | PHOTOGRAPHY BY DAMON CASAREZ
---
CHANGE AGENT
Bruin Millie Tran Analyzes the Ecosystem of News
Texas Tribune's chief product officer believes the key to reaching audiences is understanding their behavior and preferences.
CHERYL CHENG '02 | PHOTOGRAPHY BY MACKENZIE STROH
---
HAIL TO THE HILLS
In 1982, UCLA's football team left the Coliseum for its own stadium at the Rose Bowl.
CHRIS NICHOLS | PHOTOGRAPHY COURTESY OF UCLA YEARBOOK ARCHIVES
---
PICTURE THIS
UCLA's Adam Room, a Place of Elegance and History
The room was originally part of a 1780s English manor designed by architect Robert Adam.
JOHN HARLOW | PHOTOGRAPHY BY AUSTIN HARGRAVE
AT ISSUE
History shows universities like UCLA bring Americans closer together and move our nation forward.
UCLA CHANCELLOR GENE BLOCK | PHOTO BY TED CATANZARO '84
QUICK TAKES
---
How to Be a Better Boss, Remotely
Samuel Culbert has been studying the world of work for 50 years. He offers 10 tips that will help managers be more effective and thoughtful during the pandemic.
DELAN BRUCE | ILLUSTRATION BY ELLEN SURREY
---
Do you think you know UCLA? It's time to put your knowledge to the test!
JOHN HARLOW
---
The Frat That Is Helping UCLA Stay Online
The Sigma Nu brothers have stepped forward to ease the network strains.
LOUISE KIM
---