COVER STORY
Bruins are back, enlivening campus this fall. Can their spirit of renewal invigorate Westwood Village?
VIRGINIA POSTREL | ILLUSTRATIONS BY BRETT AFFRUNTI
---
Signs of Hope: Bruins Are Out and About
The UCLA and Westwood communities are again enjoying campus and the neighborhood.
PHOTOS BY ADAM AMENGUAL
---
FEATURES
Tennis star Arthur Ashe spent his life fighting for the oppressed. A new oral history collection tells his story.
DELAN BRUCE AND MARY DAILY | COLLAGE BY PETER HOVARTH
---
The UCLA Labor Center contributes students, energy and research to dozens of unions in Los Angeles.
JIM NEWTON | PHOTOS BY SAM COMEN
---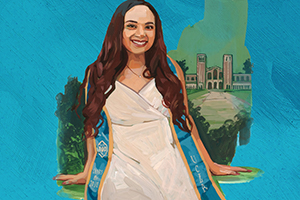 UCLA's Academic Advancement Program provides Bruins with community and a sense of belonging.
CHERYL CHENG '02 | ILLUSTRATIONS BY JON STICH
---
The Cheerful, Wacky Art of Greg Clarke
While at UCLA, he discovered the illustrators of The New Yorker. Now he's one of them.
MARY NADLER
DEPARTMENTS
---
CHANGE AGENT
Triple Bruin Examines Black History Through Sports
Damion Thomas, a curator at the largest museum of African American culture, uses sports to tell the story of race relations.
DELAN BRUCE | PHOTOS BY JARED SOARES
---
FORWARD THINKER
Art as a Means of Getting Outside Ourselves
Charlene Villaseñor Black teaches her students that art can inspire empathy toward others, such as the immigrants along the U.S.-Mexico border.
MARY DAILY | PHOTOS BY CLAUDIA LUCIA
---
LIFE SIGNS
A Quick Guide to Post-Pandemic Reentry
How to minimize anxiety as we emerge from isolation.
DAN GORDON '85 | ILLUSTRATION BY BLAIR KELLY
---
HAIL TO THE HILLS
Architect Harry Cobb designed the UCLA Anderson complex to enhance university life.
MARY DAILY
---
BIG PICTURE
As Bruins begin to populate Westwood Village again, now is the perfect time to revisit its history.
---
AT ISSUE
UCLA and Westwood Village need each other in order to to be at their best.
UCLA CHANCELLOR GENE BLOCK
QUICK TAKES
---
The Benefits of Drinking Natural Wine
Alum John Stanley advocates drinking vino that's more expressive and 'alive.'
DELAN BRUCE | PHOTOS BY NOAH WEBB
---
Sparks: UCLA's Influential Musical Duo
After blazing their own musical path, Ron and Russell Mael are at the heart of two very different movies.
JOHN HARLOW
---
Eric Jager's Long Road to Hollywood
The professor's true crime tale set in medieval France was finally turned into a film 15 years after publishing.
WENDY SODERBERG '82
---
Volunteers Create Paintings for COVID Victims' Families
The canvases contain the fingerprints of those who have died.
JOHN HARLOW
---
Two Professors Co-Direct Film About Harsh Border Crossing
Águilas documents hope and loss in the Arizona desert.
WAYNE LEWIS